---
BATTLE OF BLACKSTOCK'S

BLACKSTOCK'S PLANTATION

SOUTH CAROLINA
---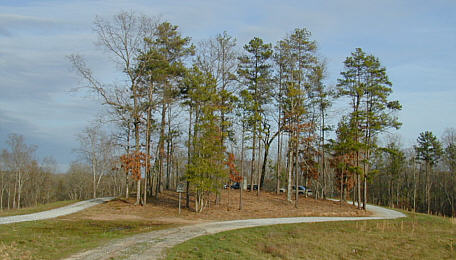 Brigadier General Thomas Sumter, the "Gamecock," along with Colonel Francis Marion, the "Swamp Fox," were appointed Patriot militia leaders by the governor of South Carolina, John Rutledge. Their appointments were to defend South Carolina as best they could until the Continental Army, under General Nathaniel Greene arrived in the state.
In June 1780, Tarleton caught Sumter unprepared for battle at Fishing Creek, which is southeast of Blackstock Plantation on the Catawba River. Sumter suffered a humiliating defeat with about 450 casualties compared with about 15 on the British side.
Sumter recovered from the loss and soon returned to harassing the British. As a result, he became a target for defeat and capture.
Cornwallis first sent Major Wemyss with a mix of cavalry and infantry after Sumter. However, they were repulsed at Fish Dam Ford, which is east of Blackstock Plantation on the Broad River near Carlisle. Wemyss was hit and knocked from his horse during the battle. Sumter later paroled him.
After the loss at Fish Dam Ford, an alarmed Cornwallis sent Tarleton with about 300 men into the Backcountry after Sumter. Sumter learned of Tarleton's advance from a deserter and formed his men, numbering about 400, at Blackstock's Plantation. The plantation, which was on high ground and surrounded by thick underbrush, was a formidable position for a battle.
Tarleton split his forces and confidently attacked the main body of Sumter's forces, but in fierce fighting, the British could not take control. Although Sumter was badly wounded in the battle, Tarleton was forced to withdraw in darkness without a victory.
The British had about 50 killed and the Patriots lost only 3. Although Tarleton had successfully caught up with his enemy and forced him to make a stand, he lost the battle. Tarleton would repeat this series of events once again at Cowpens.
Battle of Blackstock's

This battle of the Revolution took place on William Blackstock's plantation, 3 miles N. on the south side of the Tyger River, November 20, 1780. Gen. Thomas Sumter commanded the American patriots who repulsed Lt. Col. Banastre Tarleton's British forces. Sumter was wounded here, and this prevented his taking an active part in the war for several months.

(Blackstock Marker)
General Thomas Sumter was carried off the battlefield in a sling and was incapacitated for over two months. He never effectively returned to command after the Battle of Blackstock's Plantation.
---