---
A REVOLUTIONARY DAY
ALONG HISTORIC US ROUTE 4

INTRODUCTION
---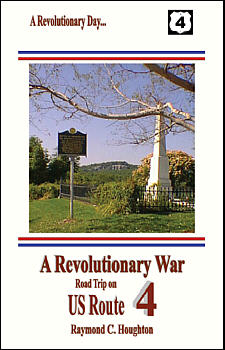 US Route 4 goes from Portsmouth, NH to Albany, NY, but for its last 100 miles you can find much history – history that dates back to three very important years in the United States' struggle for independence: 1775, 1776 and 1777. This web site presents a one-day, road trip along this route, but be warned, with so much to see, it could easily take a week.
In 1777, British General Burgoyne described this area as "God Forsaken", but he no doubt was frustrated by the stubbornness of its citizens who would not surrender to his invading army. Actually, this area covers some of the most beautiful country in the northeast. It's no wonder that its citizens would not give it away.

A Revolutionary War Road Trip on US Route 4 begins early in the morning in Castleton, Vermont, historically on May 9, 1775 when final plans were being made for the capture of Fort Ticonderoga. Throughout the day, you will detour from Route 4 several times, including one big detour at the beginning that goes about 20 miles to the north. This detour sets the historical stage for the last 100 miles on US Route 4.
From Castleton you will cross Route 4 and head north on the old military road through the Hubbardton Battlefield and Mount Independence, then cross Lake Champlain by ferry to Fort Ticonderoga and Mount Defiance where on July 4, 1777, Burgoyne moved cannons up to the top of the mountain and sparked an American retreat from Fort Ticonderoga and Mount Independence.
You will continue south following the route taken by the British during the invasion of 1777 through Whitehall, Fort Ann, Fort Edward, Fort Miller and Schuylerville following the Hudson River to the Saratoga National Historical Park where the battles of Saratoga took place, the "turning point of the American Revolution."
From the park, you will continue south following the Hudson River through Stillwater, Waterford and Peebles Island until you complete your journey in Albany, the target of the British invasion and home of General Philip Schuyler, the commander of the Northern Department of the Continental Army.
So, if you're ready, begin your Revolutionary Day along historic US Route 4.
---

Take Another Revolutionary War Road Trip